Wow. Mark your calendars because next month is absolutely packed with books on my to be read list – especially if you are a fan of YA. It is both exciting & a little sad because with my schedule there is just no way to fit it all in.
Here are my TOP 5 picks for May 2018:
*All book descriptions are copied from Goodreads.
The Death of Mrs. Westaway – Ruth Ware (5/29/2018)
From the #1 New York Times bestselling author of In a Dark, Dark Wood, The Woman in Cabin 10, and The Lying Game comes Ruth Ware's highly anticipated fourth novel.

On a day that begins like any other, Hal receives a mysterious letter bequeathing her a substantial inheritance. She realizes very quickly that the letter was sent to the wrong person—but also that the cold-reading skills she's honed as a tarot card reader might help her claim the money.

Soon, Hal finds herself at the funeral of the deceased…where it dawns on her that there is something very, very wrong about this strange situation and the inheritance at the center of it.
Love and Ruin – Paula McLain (5/1/2018)

The bestselling author of The Paris Wife returns to the subject of Ernest Hemingway in a novel about his passionate, stormy marriage to Martha Gellhorn—a fiercely independent, ambitious young woman who would become one of the greatest war correspondents of the twentieth century

In 1937, twenty-eight-year-old Martha travels alone to Madrid to report on the atrocities of the Spanish Civil War and becomes drawn to the stories of ordinary people caught in devastating conflict. She also finds herself unexpectedly—and uncontrollably—falling in love with Hemingway, a man already on his way to becoming a legend. In the shadow of the impending Second World War, and set against the tumultuous backdrops of Madrid, Finland, China, Key West, and especially Cuba, where Martha and Ernest make their home, their relationship and professional careers ignite. But when Ernest publishes the biggest literary success of his career, For Whom the Bell Tolls, they are no longer equals, and Martha must make a choice: surrender to the confining demands of being a famous man's wife or risk losing Ernest by forging a path as her own woman and writer. It is a dilemma that will force her to break his heart, and her own.
What Should Be Wild – Julia Fine (5/8/2018)
In this darkly funny, striking debut, a highly unusual young woman must venture into the woods at the edge of her home to remove a curse that has plagued the women in her family for millennia—an utterly original novel with all the mesmerizing power of The Tiger's Wife, The Snow Child, and Swamplandia!

Cursed. Maisie Cothay has never known the feel of human flesh: born with the power to kill or resurrect at her slightest touch, she has spent her childhood sequestered in her family's manor at the edge of a mysterious forest. Maisie's father, an anthropologist who sees her as more experiment than daughter, has warned Maisie not to venture into the wood. Locals talk of men disappearing within, emerging with addled minds and strange stories. What he does not tell Maisie is that for over a millennium her female ancestors have also vanished into the wood, never to emerge—for she is descended from a long line of cursed women.

But one day Maisie's father disappears, and Maisie must venture beyond the walls of her carefully constructed life to find him. Away from her home and the wood for the very first time, she encounters a strange world filled with wonder and deception. Yet the farther she strays, the more the wood calls her home. For only there can Maisie finally reckon with her power and come to understand the wildest parts of herself.
Furyborn (Empirium, #1) – Claire Legrand (5/22/2018)

– YA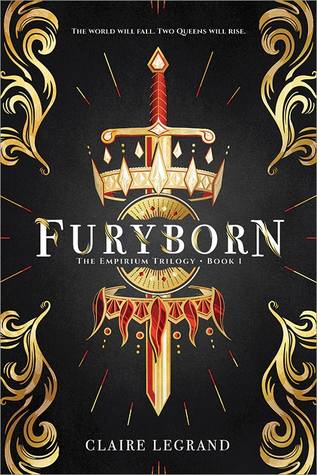 Follows two fiercely independent young women, centuries apart, who hold the power to save their world…or doom it.

When assassins ambush her best friend, the crown prince, Rielle Dardenne risks everything to save him, exposing her ability to perform all seven kinds of elemental magic. The only people who should possess this extraordinary power are a pair of prophesied queens: a queen of light and salvation and a queen of blood and destruction. To prove she is the Sun Queen, Rielle must endure seven trials to test her magic. If she fails, she will be executed…unless the trials kill her first.

A thousand years later, the legend of Queen Rielle is a mere fairy tale to bounty hunter Eliana Ferracora. When the Undying Empire conquered her kingdom, she embraced violence to keep her family alive. Now, she believes herself untouchable–until her mother vanishes without a trace, along with countless other women in their city. To find her, Eliana joins a rebel captain on a dangerous mission and discovers that the evil at the heart of the empire is more terrible than she ever imagined.

As Rielle and Eliana fight in a cosmic war that spans millennia, their stories intersect, and the shocking connections between them ultimately determine the fate of their world–and of each other.
Love & Luck – Jenna Evans Welch (5/8/2018)

  – YA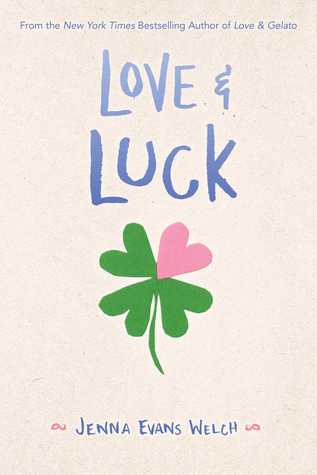 Addie is visiting Ireland for her aunt's over-the-top destination wedding, and hoping she can stop thinking about the one horrible thing she did that left her miserable and heartbroken—and threatens her future. But her brother, Ian, isn't about to let her forget, and his constant needling leads to arguments and even a fistfight between the two once inseparable siblings. Miserable, Addie can't wait to visit her friend in Italy and leave her brother—and her problems—behind.

So when Addie discovers an unusual guidebook, Ireland for the Heartbroken, hidden in the dusty shelves of the hotel library, she's able to finally escape her anxious mind and Ian's criticism.

And then their travel plans change. Suddenly Addie finds herself on a whirlwind tour of the Emerald Isle, trapped in the world's smallest vehicle with Ian and his admittedly cute, Irish-accented friend Rowan. As the trio journeys over breathtaking green hills, past countless castles, and through a number of fairy-tale forests, Addie hopes her guidebook will heal not only her broken heart, but also her shattered relationship with her brother.

That is if they don't get completely lost along the way.
Runners Up Include:
Our Kind of Cruelty – Araminta Hall
The Map of Salt and Stars – Jennifer Zeynab Joukhadar
War Storm – Victoria Aveyard (YA)
A Court of Frost and Starlight – Sarah J. Maas (YA)
Listen to Your Heart – Kasie West (YA)
Smoke in the Sun – Renee Ahdieh (YA)