Happy Tuesday! 🙂
Top Ten Tuesday is a weekly meme that is now hosted by That Artsy Reader Girl.
Just like (I'm sure) everyone else, my TBR pile is forever long. At the same time, this summer I am participating in the Goodreads Summer Reading Challenge! I decided to try and kill two birds with one stone and try to match up some of the challenge tasks with books I'm already planning to read….
Here we go 🙂
---
My, What Big Teeth You Have: Read a book that puts a spin on a well-known fairy tale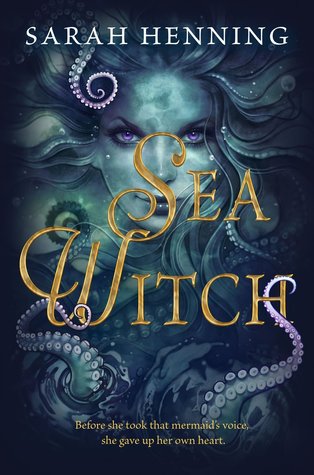 Sea Witch by Sarah Henning
Everyone knows what happens in the end.
A mermaid, a prince, a true love's kiss.
But before that young siren's tale, there were three friends.
One feared, one royal, and one already dead.
Ever since her best friend, Anna, drowned, Evie has been an outcast in her small fishing town. A freak. A curse. A witch.
A girl with an uncanny resemblance to Anna appears offshore and, though the girl denies it, Evie is convinced that her best friend actually survived. That her own magic wasn't so powerless after all. And, as the two girls catch the eyes—and hearts—of two charming princes, Evie believes that she might finally have a chance at her own happily ever after.
But her new friend has secrets of her own. She can't stay in Havnestad, or on two legs, unless Evie finds a way to help her. Now Evie will do anything to save her friend's humanity, along with her prince's heart—harnessing the power of her magic, her ocean, and her love until she discovers, too late, the truth of her bargain.
The rise of Hans Christian Andersen's iconic villainess is a heart-wrenching story of friendship, betrayal, and a girl pushed beyond her limits—to become a monster.
---
The Colors of Summer: Read a book that features a yellow, green, or sandy cover
Heart of Thorns by Bree Barton
Inventive and heart-racing, this fiercely feminist teen fantasy trilogy from debut author Bree Barton examines a dark kingdom in which only women can possess magic—and every woman is suspected of having it.
Mia Rose wants only one thing: revenge against the Gwyrach—feared, reviled, and magical women—who killed her mother. After years training under her father's infamous Hunters, Mia is ready. She will scour the four kingdoms, find her mother's murderer, and enact the Hunters' Creed: heart for a heart, life for a life.
But when Mia is thrust into the last role she ever wanted—promised wife to the future king—she plots a daring escape. On her wedding night, Mia discovers something she never imagined: She may be a Huntress, but she's also a Gwyrach. As the truth comes to light, Mia must untangle the secrets of her own past. Now if she wants to survive, Mia must learn to trust her heart . . . even if it kills her
---
Ocean Blue: Read a book that takes place on the water
The Sea Prayer by Khaled Hosseini
The #1 New York Times-bestselling author of The Kite Runner, A Thousand Splendid Suns, and And the Mountains Echoed responds to the heartbreak of the current refugee crisis with this deeply moving, beautifully illustrated short work of fiction for people of all ages, all over the world.
A short, powerful, illustrated book written by beloved novelist Khaled Hosseini in response to the current refugee crisis, Sea Prayer is composed in the form of a letter, from a father to his son, on the eve of their journey. Watching over his sleeping son, the father reflects on the dangerous sea-crossing that lies before them. It is also a vivid portrait of their life in Homs, Syria, before the war, and of that city's swift transformation from a home into a deadly war zone.
Impelled to write this story by the haunting image of young Alan Kurdi, the three-year-old Syrian boy whose body washed upon the beach in Turkey in September 2015, Hosseini hopes to pay tribute to the millions of families, like Kurdi's, who have been splintered and forced from home by war and persecution, and he will donate author proceeds from this book to the UNHCR (the UN Refugee Agency) and The Khaled Hosseini Foundation to help fund lifesaving relief efforts to help refugees around the globe.
Khaled Hosseini is one of the most widely read writers in the world, with more than fifty-five million copies of his novels sold worldwide in more than seventy countries. Hosseini is also a Goodwill Envoy to the UNHCR, and the founder of The Khaled Hosseini Foundation, a nonprofit that provides humanitarian assistance to the people of Afghanistan.
---
Hook 'Em: Read a book that features fishing or a fisherman
The Mermaid by Christina Henry
From the author of Lost Boy comes a historical fairy tale about a mermaid who leaves the sea for love and later finds herself in P.T. Barnum's American Museum as the real Fiji mermaid. However, leaving the museum may be harder than leaving the sea ever was.
Once there was a mermaid who longed to know of more than her ocean home and her people. One day a fisherman trapped her in his net but couldn't bear to keep her. But his eyes were lonely and caught her more surely than the net, and so she evoked a magic that allowed her to walk upon the shore. The mermaid, Amelia, became his wife, and they lived on a cliff above the ocean for ever so many years, until one day the fisherman rowed out to sea and did not return.
P. T. Barnum was looking for marvelous attractions for his American Museum, and he'd heard a rumor of a mermaid who lived on a cliff by the sea. He wanted to make his fortune, and an attraction like Amelia was just the ticket.
Amelia agreed to play the mermaid for Barnum, and she believes she can leave any time she likes. But Barnum has never given up a money-making scheme in his life, and he's determined to hold on to his mermaid.
---
Won't Be Long: Read a collection of short stories or essays.
 Fresh Ink edited by Lamar Giles
In partnership with We Need Diverse Books, thirteen of the most recognizable, diverse authors come together in this remarkable YA anthology featuring ten short stories, a graphic short story, and a one-act play from Walter Dean Myers never before in-print.
Careful–you are holding fresh ink. And not hot-off-the-press, still-drying-in-your-hands ink. Instead, you are holding twelve stories with endings that are still being written–whose next chapters are up to you.
Because these stories are meant to be read. And shared.
Thirteen of the most accomplished YA authors deliver a label-defying anthology that includes ten short stories, a graphic novel, and a one-act play. This collection will inspire you to break conventions, bend the rules, and color outside the lines. All you need is fresh ink.
---
Campfire Story: Read a book that scares the bejesus out of you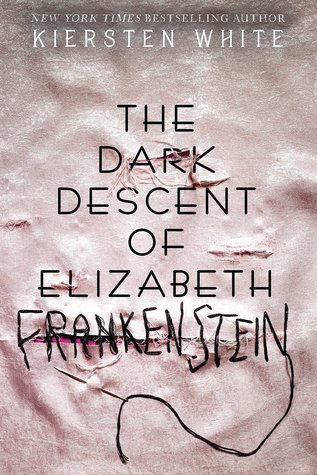 The Dark Descent of Elizabeth Frankenstein by Kiersten White
Elizabeth Lavenza hasn't had a proper meal in weeks. Her thin arms are covered with bruises from her "caregiver," and she is on the verge of being thrown into the streets . . . until she is brought to the home of Victor Frankenstein, an unsmiling, solitary boy who has everything–except a friend.
Victor is her escape from misery. Elizabeth does everything she can to make herself indispensable–and it works. She is taken in by the Frankenstein family and rewarded with a warm bed, delicious food, and dresses of the finest silk. Soon she and Victor are inseparable.
But her new life comes at a price. As the years pass, Elizabeth's survival depends on managing Victor's dangerous temper and entertaining his every whim, no matter how depraved. Behind her blue eyes and sweet smile lies the calculating heart of a girl determined to stay alive no matter the cost . . . as the world she knows is consumed by darkness
---
Take Pride: Read a book written by an LGBTQIA author or that features an LGBTQIA character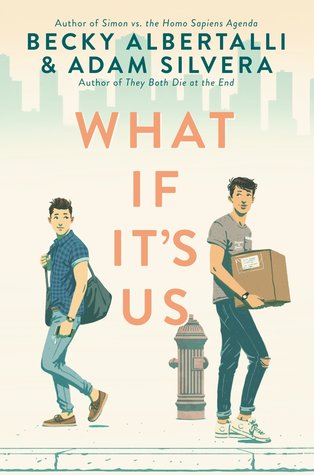 What If It's Us by Becky Albertalli & Adam Silvera
Arthur is only in New York for the summer, but if Broadway has taught him anything, it's that the universe can deliver a showstopping romance when you least expect it.
Ben thinks the universe needs to mind its business. If the universe had his back, he wouldn't be on his way to the post office carrying a box of his ex-boyfriend's things.
But when Arthur and Ben meet-cute at the post office, what exactly does the universe have in store for them?
Maybe nothing. After all, they get separated.
Maybe everything. After all, they get reunited.
But what if they can't quite nail a first date . . . or a second first date . . . or a third?
What if Arthur tries too hard to make it work . . . and Ben doesn't try hard enough?
What if life really isn't like a Broadway play?
But what if it is?
---
Sand Between My Toes: Read a book that takes place in or around a beach/ocean.
Bellewether by Susanna Kearsley
Some houses seem to want to hold their secrets.
It's 1759 and the world is at war, pulling the North American colonies of Britain and France into the conflict. The times are complicated, as are the loyalties of many New York merchants who have secretly been trading with the French for years, defying Britain's colonial laws in a game growing ever more treacherous.
When captured French officers are brought to Long Island to be billeted in private homes on their parole of honour, it upends the lives of the Wilde family—deeply involved in the treasonous trade and already divided by war.
Lydia Wilde, struggling to keep the peace in her fracturing family following her mother's death, has little time or kindness to spare for her unwanted guests. French-Canadian lieutenant Jean-Philippe de Sabran has little desire to be there. But by the war's end they'll both learn love, honour, and duty can form tangled bonds that are not broken easily.
Their doomed romance becomes a local legend, told and re-told through the years until the present day, when conflict of a different kind brings Charley Van Hoek to Long Island to be the new curator of the Wilde House Museum.
Charley doesn't believe in ghosts. But as she starts to delve into the history of Lydia and her French officer, it becomes clear that the Wilde House holds more than just secrets, and Charley discovers the legend might not have been telling the whole story…or the whole truth.
---
Read the World: Read a book that takes place in a country – or focuses on a culture – other than your own
The Romanov Empress by C.W. Gortner
For readers of Philippa Gregory and Alison Weir comes a dramatic novel of the beloved Empress Maria, the Danish girl who became the mother of the last Russian tsar.
Even from behind the throne, a woman can rule.
Narrated by the mother of Russia's last tsar, this vivid, historically authentic novel brings to life the courageous story of Maria Feodorovna, one of Imperial Russia's most compelling women who witnessed the splendor and tragic downfall of the Romanovs as she fought to save her dynasty in the final years of its long reign.
Barely nineteen, Minnie knows that her station in life as a Danish princess is to leave her family and enter into a royal marriage—as her older sister Alix has done, moving to  England to wed Queen Victoria's eldest son. The winds of fortune bring Minnie to Russia, where she marries the Romanov heir and becomes empress once he ascends the throne. When resistance to his reign strikes at the heart of her family and the tsar sets out to crush all who oppose him, Minnie—now called Maria—must tread a perilous path of compromise in a country she has come to love.
Her husband's death leaves their son Nicholas as the inexperienced ruler of a deeply divided and crumbling empire. Determined to guide him to reforms that will bring Russia into the modern age, Maria faces implacable opposition from Nicholas's strong-willed wife, Alexandra, whose fervor has lead her into a disturbing relationship with a mystic named Rasputin. As the unstoppable wave of revolution rises anew to engulf Russia, Maria will face her most dangerous challenge and her greatest heartache.
From the opulent palaces of St. Petersburg and the intrigue-laced salons of the aristocracy to the World War I battlefields and the bloodied countryside occupied by the Bolsheviks, C. W. Gortner sweeps us into the anarchic fall of an empire and the complex, bold heart of the woman who tried to save it.
---
Unshelve It: Read a book that's been sitting on your Goodreads Shelves for a while
Strange the Dreamer by Laini Taylor
The dream chooses the dreamer, not the other way around—and Lazlo Strange, war orphan and junior librarian, has always feared that his dream chose poorly. Since he was five years old he's been obsessed with the mythic lost city of Weep, but it would take someone bolder than he to cross half the world in search of it. Then a stunning opportunity presents itself, in the person of a hero called the Godslayer and a band of legendary warriors, and he has to seize his chance or lose his dream forever.
What happened in Weep two hundred years ago to cut it off from the rest of the world? What exactly did the Godslayer slay that went by the name of god? And what is the mysterious problem he now seeks help in solving?
The answers await in Weep, but so do more mysteries—including the blue-skinned goddess who appears in Lazlo's dreams. How did he dream her before he knew she existed? And if all the gods are dead, why does she seem so real?
---
Have you read or are planning to read any of these?? Or do you have other suggestions for the prompts? Let me know 🙂
-Becky