I so cannot believe this month went by so quickly!! I feel like I was just wrapping up May last week… It is starting to get hot out & so I want to be at my computer less and reading directly in front of the fan (or standing in front of the open fridge)  more 🙂
Here are my TOP 5 most anticipated reads for July!
What are you guys excited about??
---
The Incendiaries by R.O. Kwon
A shocking novel of violence, love, faith, and loss, as a young woman at an elite American university is drawn into acts of domestic terrorism by a cult tied to North Korea.

Phoebe Lin and Will Kendall meet their first month at prestigious Edwards University. Phoebe is a glamorous girl who doesn't tell anyone she blames herself for her mother's recent death. Will is a misfit scholarship boy who transfers to Edwards from Bible college, waiting tables to get by. What he knows for sure is that he loves Phoebe.

Grieving and guilt-ridden, Phoebe is increasingly drawn into a religious group–a secretive extremist cult–founded by a charismatic former student, John Leal. He has an enigmatic past that involves North Korea and Phoebe's Korean American family. Meanwhile, Will struggles to confront the fundamentalism he's tried to escape, and the obsession consuming the one he loves. When the group bombs several buildings in the name of faith, killing five people, Phoebe disappears. Will devotes himself to finding her, tilting into obsession himself, seeking answers to what happened to Phoebe and if she could have been responsible for this violent act.

The Incendiaries is a fractured love story and a brilliant examination of the minds of extremist terrorists, and of what can happen to people who lose what they love most. who lose what they love most.
---
Give Me Your Hand by Megan Abbott
A life-changing secret destroys an unlikely friendship in this "magnetic" psychological thriller from the Edgar Award-winning author of Dare Me (Meg Wolitzer).

Kit Owens harbored only modest ambitions for herself when the mysterious Diane Fleming appeared in her high school chemistry class. But Diane's academic brilliance lit a fire in Kit, and the two developed an unlikely friendship. Until Diane shared a secret that changed everything between them.

More than a decade later, Kit thinks she's put Diane behind her forever and she's begun to fulfill the scientific dreams Diane awakened in her. But the past comes roaring back when she discovers that Diane is her competition for a position both women covet, taking part in groundbreaking new research led by their idol. Soon enough, the two former friends find themselves locked in a dangerous game of cat-and-mouse that threatens to destroy them both.
---
Dr. Strange Beard by Penny Reid
Everyone in Green Valley, Tennessee knows that the six bearded Winston brothers have been imbued with an unfair share of charm and charisma… and are prone to mischief.

Dr. Strange Beard, the fifth book in the Winston Brothers series, from USA TODAY bestselling author Penny Reid publishes in July 2018!
---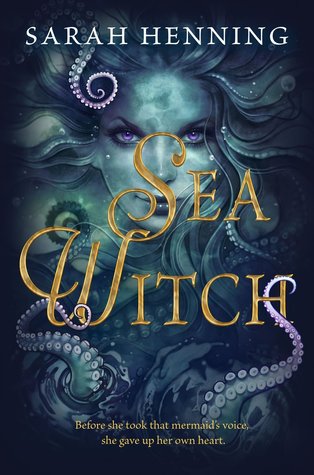 Sea Witch by Sarah Henning
Everyone knows what happens in the end.
A mermaid, a prince, a true love's kiss.
But before that young siren's tale, there were three friends.
One feared, one royal, and one already dead.

Ever since her best friend, Anna, drowned, Evie has been an outcast in her small fishing town. A freak. A curse. A witch.

A girl with an uncanny resemblance to Anna appears offshore and, though the girl denies it, Evie is convinced that her best friend actually survived. That her own magic wasn't so powerless after all. And, as the two girls catch the eyes—and hearts—of two charming princes, Evie believes that she might finally have a chance at her own happily ever after.

But her new friend has secrets of her own. She can't stay in Havnestad, or on two legs, unless Evie finds a way to help her. Now Evie will do anything to save her friend's humanity, along with her prince's heart—harnessing the power of her magic, her ocean, and her love until she discovers, too late, the truth of her bargain.

The rise of Hans Christian Andersen's iconic villainess is a heart-wrenching story of friendship, betrayal, and a girl pushed beyond her limits—to become a monster.
---
The Romanov Empress by C.W. Gortner
For readers of Philippa Gregory and Alison Weir comes a dramatic novel of the beloved Empress Maria, the Danish girl who became the mother of the last Russian tsar.

Even from behind the throne, a woman can rule.

Narrated by the mother of Russia's last tsar, this vivid, historically authentic novel brings to life the courageous story of Maria Feodorovna, one of Imperial Russia's most compelling women who witnessed the splendor and tragic downfall of the Romanovs as she fought to save her dynasty in the final years of its long reign.

Barely nineteen, Minnie knows that her station in life as a Danish princess is to leave her family and enter into a royal marriage–as her older sister Alix has done, moving to England to wed Queen Victoria's eldest son. The winds of fortune bring Minnie to Russia, where she marries the Romanov heir and becomes empress once he ascends the throne. When resistance to his reign strikes at the heart of her family and the tsar sets out to crush all who oppose him, Minnie–now called Maria–must tread a perilous path of compromise in a country she has come to love.

Her husband's death leaves their son Nicholas as the inexperienced ruler of a deeply divided and crumbling empire. Determined to guide him to reforms that will bring Russia into the modern age, Maria faces implacable opposition from Nicholas's strong-willed wife, Alexandra, whose fervor has lead her into a disturbing relationship with a mystic named Rasputin. As the unstoppable wave of revolution rises anew to engulf Russia, Maria will face her most dangerous challenge and her greatest heartache.

From the opulent palaces of St. Petersburg and the intrigue-laced salons of the aristocracy to the World War I battlefields and the bloodied countryside occupied by the Bolsheviks, C. W. Gortner sweeps us into the anarchic fall of an empire and the complex, bold heart of the woman who tried to save it.