Happy Friday everyone!! I can't believe it is already September and I am crazy excited because there are so many books coming out this Fall that I feel like I've been waiting FOREVER for!!
What's up next?? WILDCARD!! Only a few more weeks to go… Coming September 18, 2018!
But first, let's go back to 2017 and revisit the book that started it all. ❤
Warcross
(Warcross #1)
by Marie Lu
Publisher: G.P. Putnam's Sons Books for Young Readers
Release Date: September 12, 2017
Genres: Young Adult; Science Fiction; Fantasy

---
For the millions who log in every day, Warcross isn't just a game–it's a way of life. The obsession started ten years ago and its fan base now spans the globe, some eager to escape from reality and others hoping to make a profit. Struggling to make ends meet, teenage hacker Emika Chen works as a bounty hunter, tracking down Warcross players who bet on the game illegally. But the bounty-hunting world is a competitive one, and survival has not been easy. Needing to make some quick cash, Emika takes a risk and hacks into the opening game of the international Warcross Championships–only to accidentally glitch herself into the action and become an overnight sensation.
Convinced she's going to be arrested, Emika is shocked when instead she gets a call from the game's creator, the elusive young billionaire Hideo Tanaka, with an irresistible offer. He needs a spy on the inside of this year's tournament in order to uncover a security problem . . . and he wants Emika for the job. With no time to lose, Emika's whisked off to Tokyo and thrust into a world of fame and fortune that she's only dreamed of. But soon her investigation uncovers a sinister plot, with major consequences for the entire Warcross empire.
---
Review
Every locked door has a key. Every problem has a solution.
Right off the bat we are pulled into Marie Lu's crazy world. She is so brilliant with her prose and I can recognize her writing immediately. If I could describe it in two words, they would be: simple and elegant. She describes everything without any need for purple prose or flowery nonsense. Her writing style is just so easy & because of that you simply can fall into the story and be lost.
But sometimes, you find yourself standing in exactly the right position, wielding exactly the right weapon to hit back. So I hit. I hit fast and hard and furious. I hit with nothing but the language whispered between circuits and wire, the language that can bring people to their knees.

And in spite of everything, I'd do it all over again.
And oh, the world building is magic. Lu describes a world that could easily translate to the near future. Both the NeuroLink and Warcross is just a few years away and the technology is easy to picture just around the corner.
Her grasp of gaming and AI is spectacular. Okay, I'm the first to admit that I have almost zero gaming knowledge. But I found myself wanting to play Warcross. I felt pulled into the NeuroLink world and I could easily see myself wasting so much time getting sucked into the grandeur of it all.
"Everything's science fiction until someone makes it science fact," Hideo says. There's a specific intensity in his gaze now, a glow that brightens his entire expression. I remember seeing it the first time I caught him on TV, and I recognize it now. This is the Hideo that draws me in.
The one imperfection lays with Emika. She is clearly very smart but up until she is literally forced into this Warcross bounty opportunity to find Zero, she seems so lazy. Even with her hard past, she should not have been living so poorly. It was almost like she got out of bed to hunt a bounty only when she absolutely had to. Her sudden drive after she is given the power and money to properly play clashed tremendously with the woman I met in the very beginning of the book. Ultimately, she was just okay but I wouldn't especially want to put my life in her hands. I'm not sure I truly got her relationship with Hideo & I especially disliked how she treated her team – up until the point where she needs their help.
But let's talk about her team. The Phoenix Riders were my absolute favorites! What Lu lacked with her heroine, she more than made up for with the rest of the cast. Many extra high fives for her the diversity. Warcross takes place on an international stage and she more than takes advantage of the opportunity to include people from all over the world.
There's a faint, metallic scent in the air. Hints of my old panic, the familiar desperation to solve this problem, rise in my stomach. Everything has a solution. Why can't I find this one?
And then we are left with Hideo. I've read some complaints about Warcross that the ending was too predicable. I can't help but think that Lu wanted it to be that way – at least a little. She drops too many clues along the way for anyone who was really paying attention not to catch. But for me there was still at least one surprise. And I'm left with a Hideo sized hole in my heart.
Warcross is such a fantastic novel on it's own, but one thing it has done spectacularly is set us up for a tremendous sequel.
And the wait is finally coming to an end…
"They believe that objects have souls. The more love you put into one, the more beautiful it becomes."
4.5 Spades
---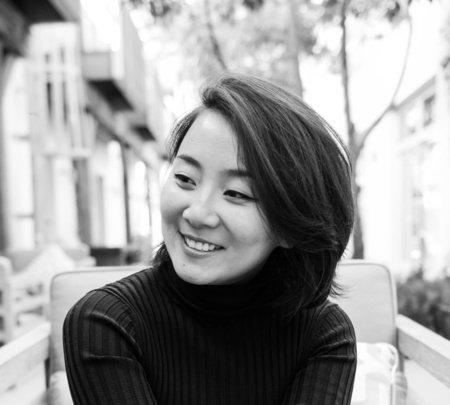 Marie Lu is the #1 New York Times bestselling author of The Young Elites series, as well as the blockbuster bestselling Legend series. She graduated from the University of Southern California and jumped into the video game industry as an artist. Now a full-time writer, she spends her spare time reading, drawing, playing games, and getting stuck in traffic. She lives in Los Angeles with her illustrator/author husband, Primo Gallanosa, and their dogs.