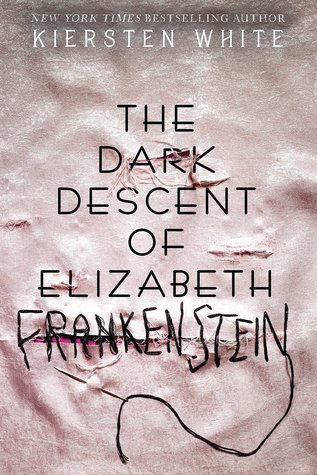 by Kiersten White
Publisher: Delacorte Press
Release Date: September 25, 2018
Genres: Young Adult; Historical; Retellings; Horror
---
Elizabeth Lavenza hasn't had a proper meal in weeks. Her thin arms are covered with bruises from her "caregiver," and she is on the verge of being thrown into the streets . . . until she is brought to the home of Victor Frankenstein, an unsmiling, solitary boy who has everything–except a friend.
Victor is her escape from misery. Elizabeth does everything she can to make herself indispensable–and it works. She is taken in by the Frankenstein family and rewarded with a warm bed, delicious food, and dresses of the finest silk. Soon she and Victor are inseparable.
But her new life comes at a price. As the years pass, Elizabeth's survival depends on managing Victor's dangerous temper and entertaining his every whim, no matter how depraved. Behind her blue eyes and sweet smile lies the calculating heart of a girl determined to stay alive no matter the cost . . . as the world she knows is consumed by darkness.
---
Lightning clawed across the sky, tracing veins through the clouds and marking the pulse of the universe itself.
I apparently have a love/hate relationship with Kiersten White. The only other thing I read of hers was And I Darken, and while that novel received overwhelmingly positive reviews, I didn't get it. I was confused throughout the entire novel & I pretty much hated every single character. I decided to give The Dark Descent of Elizabeth Frankenstein a shot because it really spoke to me. I love how White decided to pay homage to a female legend by re-telling her story from a female perspective – something Shelley would have never been able to do. And if one thing was clear from my failed reading of And I Darken, it was that deeply troubled, twisted characters seem to be White's thing.
White definitely didn't disappoint on that front. Elizabeth is the definition of an antihero. She is incredibly smart, manipulative and above all only really interested in protecting herself. Calling her morally ambiguous is an understatement – her actions, as well as what she allows of herself & especially from Victor is increasingly troubling as the novel develops. But you keep reading because you think it cannot possibly get worse, until it does. And while you could never condone her actions, you can't help but think that as a woman thrown into these circumstances in the 18th century… how much choice did she really have??
This novel is creepy and atmospheric. The characters are all more flawed than good and it feels true to the time period and overall themes of the original. There was only one big thing that bothered me in this retelling. In an effort to have Elizabeth part of the action in scenes she was no where near in the original Frankenstein, she is often lurking in the background, unseen and eavesdropping. I'm not sure how else White could have incorporated her in these parts of the novel without breaking too much from the original story, but it still felt a little bit like cheating.
As I learned in the introduction, 2018 marks the 200th anniversary of the publication of Mary Shelley's Frankenstein. It really is crazy how much this novel still shapes a lot of our horror & is still being referenced and retold at a remarkable rate. I can tell you right now that this particular re-telling is not for everyone. But the things I did not like were made up for by White's imagination and writing. So, if you like redeemable characters or happy endings, this is not for you. This one is pretty dark all the way through – and I think perfect for a spooky Halloween treat.
In the early hours of the morning, when the sun had yet to make any claim on the sky, I startled awake to a bright flash of lightning. Silhouetted against a hill parallel to our path, I thought I saw the figure from the street. The figure from my nightmares. It ran with inhuman speed, its gait close to a man's but horrifyingly off in some unnameable way. I closed my eyes in terror. Another flash of lightning forced them open.

Nothing was following us.
4 Spades
Thank you to the publisher for providing an ARC of this book in exchange for my honest review. All quotes are taken from an uncorrected proof and are subject to change upon official publication.