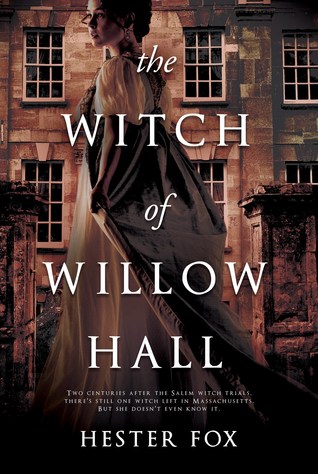 by Hester Fox
Publisher: Graydon House
Release Date: October 2nd 2018
Genres: Historical Fiction; Fantasy; Paranormal
---
Two centuries after the Salem witch trials, there's still one witch left in Massachusetts. But she doesn't even know it.
Take this as a warning: if you are not able or willing to control yourself, it will not only be you who suffers the consequences, but those around you, as well.
New Oldbury, 1821
In the wake of a scandal, the Montrose family and their three daughters—Catherine, Lydia and Emeline—flee Boston for their new country home, Willow Hall.
The estate seems sleepy and idyllic. But a subtle menace creeps into the atmosphere, remnants of a dark history that call to Lydia, and to the youngest, Emeline.
All three daughters will be irrevocably changed by what follows, but none more than Lydia, who must draw on a power she never knew she possessed if she wants to protect those she loves. For Willow Hall's secrets will rise, in the end…
---
For what man in his right mind would want a witch for a wife?
I seemed to be on the end of a bandwagon of people who read this anticipated debut. I read  reviews that absolutely loved it and those that were pretty disappointed. I think I fall somewhere in the middle. As a debut, I was incredibly impressed with Hester Fox. I'm keeping my eye on her and I'm definitely going to read what she comes out with next. But, it certainly wasn't perfect. It suffered a bit with its premise. I feel like Fox could have taken the witch-y elements so much further than she did. Even the book synopsis sort of insinuates a little more than what actually happens.
I wouldn't call this a book about magic (although to say there is NO magic would be insincere). To me it felt like a haunted version of Sense & Sensibility. Let's start with the beginning – three sisters, used to the bigger city, move to the countryside. While out for a walk, one is caught in the rain, hurts herself & is rescued by a handsome eligible bachelor who also happens to be wandering around in the middle of a downpour… sound familiar? Of course, in the case, John Barrett is lovely (unlike a certain Willoughby).
To be fair, the book does do it's own thing but I believe Fox was channeling a bit of Jane Austen through the whole thing – which isn't necessarily a bad thing. The Montrose family is well rounded and each of them have their own fears, passions and faults.  Sisterly fighting, romance, suspense, tons of intrigue & ghosts galore. The ending also may have been the best part of the whole novel.
But I feel like I have to mention (as a mother!) that the Montrose girls' mother really got the short end of the stick in this one. I won't say more because #spoilers but let's just say it seems like nothing good happens to that poor woman.
To wrap it up, this book took me a couple chapters to really dig in & there were some parts that were downright silly but overall I enjoyed it. Fox also managed to give Willow Hall a proper ending but left a huge opening for follow up stories – either with Lydia herself or future generations. I hope there is a little more witchcraft in those…
3.5 Spades
Thank you to the publisher for providing an ARC of this book in exchange for my honest review. All quotes are taken from an uncorrected proof and are subject to change upon official publication.