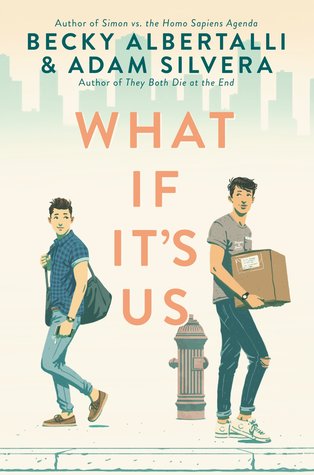 by Becky Albertalli & Adam Silvera
Publisher: HarperTeen
Release Date: October 9, 2018
Genres: Young Adult, Contemporary
Arthur is only in New York for the summer, but if Broadway has taught him anything, it's that the universe can deliver a showstopping romance when you least expect it.
Ben thinks the universe needs to mind its business. If the universe had his back, he wouldn't be on his way to the post office carrying a box of his ex-boyfriend's things.
But when Arthur and Ben meet-cute at the post office, what exactly does the universe have in store for them?
Maybe nothing. After all, they get separated.
Maybe everything. After all, they get reunited.
But what if they can't quite nail a first date . . . or a second first date . . . or a third?
What if Arthur tries too hard to make it work . . . and Ben doesn't try hard enough?
What if life really isn't like a Broadway play?
But what if it is?
"Everything means so much more because of all the hoops we jumped through, right?"

I don't know if we're a love story or a story about love. But I know whatever we are that it's great because we kept jumping the hoops in the first place.
There are so many cute things to love about this book. For me, it was perfect for my reading slump. It was cutesy and just fluffy enough to breeze through it in a couple days. But, it still had some real power to it. And I think it has the potential to speak quite differently to different people depending on what parts you personally focus on.
For me, it was about how thing don't need to be perfect to be right.
This was my very first experience with Adam Silvera (I know, I'm a monster. I have every intention of rectifying this!). I've only read a couple of Becky Albertalli novels but I feel like I know what to expect from her and I wasn't let down at all. She handles touchy topics beautifully and has a knack for writing young people that actually feel real. And of course, all the Harry Potter references you could hope for to make you swoon. (Yes, apparently I swoon for HP references. I certainly highlighted every.single.one of them ❤)
I press my hair down, and it springs back up immediately. I have that messy brown Jew hair, just like my parents. I should dig up some gel. I could go full Draco Malfoy.
The characters in What If It's Us are the stars of the story. And the supporting cast especially shines. Don't get me wrong, I loved Arthur and Ben but it was so refreshing that they each had such amazing friends & (more surprisingly to me for a YA novel) amazing family! Yes! Good parents in a YA book? What does that even look like?
The ending is the divisive issue in this book and I have to say I fall completely on the side of those who loved it. It brought everything back full circle to me. Things don't need to be perfect to be right. And the ending was just that. Right.  
"If you're not going to speak from the dick, I think you should speak from the heart. That seems like the next logical step."

"Speaking from the dick was never a logical step."

"Says you."
4 Spades
Thank you to the publisher for providing an ARC of this book in exchange for my honest review. All quotes are taken from an uncorrected proof and are subject to change upon official publication.