I've been in a really long reading slump lately but I've been trying to embrace the extra time from reading to relax and spend time with my family. I've also decided to participate in Nanowrimo this year so I've been having fun coming up with ideas and pre-outlining my novel.
I also took a step back from posting because I wanted to remind myself that it is okay if I do. At some point, I needed to remember that I started this blog for myself and the only rules I have to live up to are my own. No one (but myself?) is going to punish me if I don't post 3 times a week. So, while I've missed everyone here, the entire process has been cathartic for my mind-space.
SO, while I'm sitting here trying to take it easy and not force myself to read if I don't feel like it, the world keeps spinning & the books are not waiting for me to be ready 🙂 Here are my top 5 books coming out this month that I'm excited about:
 The Dark Heart by Joakim Palmkvist
A chilling true crime story of poisonous family secrets, love gone wrong, and a cold case that refused to stay buried…
In late summer of 2012, millionaire landowner Göran Lundblad went missing from his farm in Sweden. When a search yielded nothing, and all physical evidence had seemingly disappeared, authorities had little to go on—except a disturbing phone call five weeks later from Göran's daughter Maria. She was sure that her sister, Sara, was somehow involved. At the heart of the alleged crime: Sara's greed, her father's land holdings, and his bitter feud with Sara's idler boyfriend.
With no body, there was no crime—and the case went as cold and dark as the forests of southern Sweden. But not for Therese Tang. For two years, this case was her obsession.
A hard-working ex-model, mother of three, and Missing People investigator, Therese was willing to put her own safety at risk in order to uncover the truth. What she found was a nest of depraved secrets, lies, and betrayal. All she had to do now, in her relentless and dangerous pursuit of justice, was prove that it led to murder.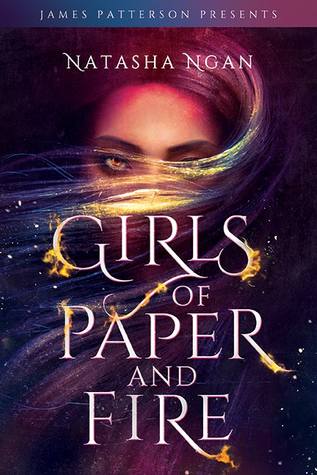 Girls of Paper and Fire by Natasha Ngan
Each year, eight beautiful girls are chosen as Paper Girls to serve the king. It's the highest honor they could hope for…and the most cruel.
But this year, there's a ninth girl. And instead of paper, she's made of fire.
In this lush fantasy, Lei is a member of the Paper caste, the lowest and most oppressed class in Ikhara. She lives in a remote village with her father, where the decade-old trauma of watching her mother snatched by royal guards still haunts her. Now, the guards are back, and this time it's Lei they're after–the girl whose golden eyes have piqued the king's interest.
Over weeks of training in the opulent but stifling palace, Lei and eight other girls learn the skills and charm that befit being a king's consort. But Lei isn't content to watch her fate consume her. Instead, she does the unthinkable–she falls in love. Her forbidden romance becomes enmeshed with an explosive plot that threatens the very foundation of Ikhara, and Lei, still the wide-eyed country girl at heart, must decide just how far she's willing to go for justice and revenge.
 Empress of All Seasons by Emiko Jean
In a palace of illusions, nothing is what it seems.
Each generation, a competition is held to find the next empress of Honoku. The rules are simple. Survive the palace's enchanted seasonal rooms. Conquer Winter, Spring, Summer, and Fall. Marry the prince. All are eligible to compete—all except yōkai, supernatural monsters and spirits whom the human emperor is determined to enslave and destroy.
Mari has spent a lifetime training to become empress. Winning should be easy. And it would be, if she weren't hiding a dangerous secret. Mari is a yōkai with the ability to transform into a terrifying monster. If discovered, her life will be forfeit. As she struggles to keep her true identity hidden, Mari's fate collides with that of Taro, the prince who has no desire to inherit the imperial throne, and Akira, a half-human, half-yōkai outcast.
Torn between duty and love, loyalty and betrayal, vengeance and forgiveness, the choices of Mari, Taro, and Akira will decide the fate of Honoku in this beautifully written, edge-of-your-seat YA fantasy.
The Lines we Leave Behind by Eliza Graham
England, 1947: A young woman finds herself under close observation in an insane asylum, charged with a violent crime she has no memory of committing. As she tries to make sense of her recent past, she recalls very little.
But she still remembers wartime in Yugoslavia. There she and her lover risked everything to carry out dangerous work resisting the Germans—a heroic campaign in which many brave comrades were lost. After that, the trail disappears into confusion. How did she come to be trapped in a living nightmare?
As she struggles to piece together the missing years of her life, she will have to confront the harrowing experiences of her special-operations work and peacetime marriage. Only then can she hope to regain the vital memories that will uncover the truth: is she really a violent criminal…or was she betrayed?
River Bodies by Karen Katchur
In this dark, gripping mystery, a brutal murder unearths old secrets that should have stayed buried.
A body just turned up in the small town of Portland, Pennsylvania. The crime is eerily similar to a twenty-year-old cold case: another victim, brutally murdered, found in the Delaware River. Lead detective Parker Reed is intent on connecting the two murders, but the locals are on lockdown, revealing nothing.
The past meets the present when Becca Kingsley, who returns to Portland to be with her estranged but dying father, runs into Parker, her childhood love. As the daughter of the former police chief, Becca's quickly drawn into the case. Coming home has brought something ominous to the surface – memories long buried, secrets best kept hidden. Becca starts questioning all her past relationships, including one with a man who's watched over her for years. For the first time, she wonders if he's more predator than protector.
In a small town where darkness hides in plain sight, the truth could change Becca's life – or end it.
Well that's it for me… what are you excited about coming next month? Did I forget about something big??
Happy Reading ❤